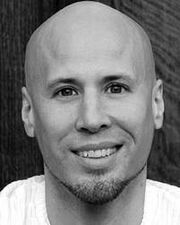 Christophe Caballero is a French-American voice actor who voiced Odd Della Robbia in the English dub of Code Lyoko in Season 1 for the first two episodes that were recorded. He was replaced by Matthew Geczy. Some people believe that he gave a rather distinct Spanish accent to Odd's voice. He is also a famous drag queen. He is also credited under the name Christopher Caballero.
Role Filled
Noteworthy non-Code Lyoko roles
He was in productions of the following:
La Cage aux Folles "The Birdcage"
Beauty and the Beast
Picture of role:
Further Links
Ad blocker interference detected!
Wikia is a free-to-use site that makes money from advertising. We have a modified experience for viewers using ad blockers

Wikia is not accessible if you've made further modifications. Remove the custom ad blocker rule(s) and the page will load as expected.