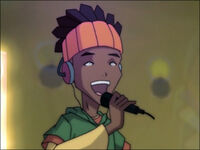 Christophe M'Bala is a French-African ninth grader at Kadic who can be seen in many episodes fleeing from a X.A.N.A. attack. Christophe enjoys music, and can be seen listening to it most of the time. He integrates slang words into his speech in a very stereotypical way, though he hardly talks. He was in the cafeteria during "Attack of the Zombies," and was turned into a Zombie.
He is mostly a background character, usually with 1 line per episode at most.
Gallery
Ad blocker interference detected!
Wikia is a free-to-use site that makes money from advertising. We have a modified experience for viewers using ad blockers

Wikia is not accessible if you've made further modifications. Remove the custom ad blocker rule(s) and the page will load as expected.