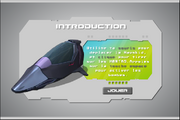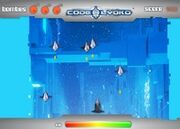 Code Lyoko's Galaxy
is a
Adobe Flash
game made by
Canal J
in the
Code Lyoko
franchise. It consists of traveling through the
Digital Sea
and destroying monsters.
Controls
Mouse Left and Right: move left and right
Left click: fire
Space: deploy bomb
Gameplay
The game consists of moving through the digital sea, dodging Mantas, avoiding the Manta's Lasers, and trying to destroy the Mantas. The mantas can be destroyed by shooting unlimited torpedos at them, and 3 bombs which can wipe out the mantas on screen.
Trivia
External Links
Ad blocker interference detected!
Wikia is a free-to-use site that makes money from advertising. We have a modified experience for viewers using ad blockers

Wikia is not accessible if you've made further modifications. Remove the custom ad blocker rule(s) and the page will load as expected.