Home
Talk

27
559pages on
this wiki
Welcome to the Code Lyoko Wiki that anyone can edit!
We are currently editing 559 articles about Code Lyoko and its live action sequel series Code Lyoko Evolution, a story about a group of teenagers in an everlasting-battle to defeat an evil, sentient computer program inside a virtual world.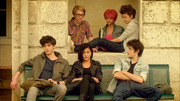 The Lyoko Warriors (also referred to as "Team Lyoko", "the group", or "the gang") is the name given to the group of main characters in Code Lyoko; Ulrich Stern, Yumi Ishiyama, Aelita Schaeffer, Jeremie Belpois, Odd Della Robbia, William Dunbar, and later, Laura Gauthier. The Lyoko Warriors battle the evil, multi-agent computer program named X.A.N.A. so that he does not gain control of Earth and beyond. They also try to gain more knowledge about Aelita, Franz Hopper, and X.A.N.A.. The Lyoko Warriors are constantly at odds with Sissi's group.
Their headquarters is located at the Factory, however Kadic Academy could also be considered as such.



Join the Chat

Code Lyoko Evolution has aired!
Seasons 1-4 of Code Lyoko are available for purchase on iTunes, Netflix, and Amazon!
This wiki has maps! Map Editor
Do you think Season 6 will happen?

Create blog post
Recent blog posts…
This is a crossover I'm gonna make for fanfiction.net with the week. I know that many have been wondering what happened after Code Lyoko Evolution so this is a fan-made sequel to the live action seri…

Read more >

There is a Code lyoko similarites in this game

The main protangonist, John-117(known commonly as the Master Chief) makes it his mission to protect his A.I. companion, Cortana from threats that also th…

Read more >
See more >