Home
Talk

21
483pages on
this wiki
Welcome to the Code Lyoko Wiki that anyone can edit!
We are currently editing 483 articles about Code Lyoko and it's live action sequel series Code Lyoko Evolution, a story about a group of teenagers in an everlasting-battle to defeat an evil, sentient computer program inside a virtual world.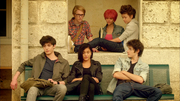 The Lyoko Warriors (also referred to as "Team Lyoko", "the group", or "the gang") is the name given to the group of main characters in Code Lyoko; Ulrich Stern, Yumi Ishiyama, Aelita Schaeffer, Jeremie Belpois, Odd Della Robbia, William Dunbar, and later, Laura Gauthier. The Lyoko Warriors battle the evil, multi-agent computer program named X.A.N.A. so that he does not gain control of Earth and beyond. They also try to gain more knowledge about Aelita, Franz Hopper, and X.A.N.A.. The Lyoko Warriors are constantly at odds with Sissi's group.
Their headquarters is located at the Factory, however Kadic Academy could also be considered as such.



Code Lyoko Evolution has aired!
Seasons 1-4 of Code Lyoko are available for purchase on iTunes!

What do you think of the Hiatus?

Create blog post
Recent blog posts...
In each episode add Template:Episodeinfo to them and list the Xana attack please.

In evoultion most of them are specters.

Read more >

Edit: This was for a writing contest and not for the actual television show.

Just doing a routine check of codelyoko.com, and found this picture. Translates to "In Search of (a) Reunion".

Read more >

The good news is that we have uploaded episode 19 with english subs

the bad news is that there is a hiatus

Read more >
See more >