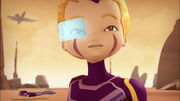 The Eye Scanner is a device that can be used on Lyoko. The eye scanner is a small blue screen that hovers over the eye of the Lyoko Warrior. It's main purpose is to scan terrain and monsters. It was only used once by Odd. He used it to find the "master" blok within the Blok Wall. After finding it, Odd successfully destroyed the Blok Wall.
Trivia
Gallery
Ad blocker interference detected!
Wikia is a free-to-use site that makes money from advertising. We have a modified experience for viewers using ad blockers

Wikia is not accessible if you've made further modifications. Remove the custom ad blocker rule(s) and the page will load as expected.