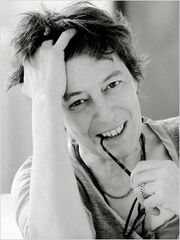 Françoise Charpiat is a french TV and Movie writer who worked on Code Lyoko, among other things. She has been active since 1994. She left the show after season 3.
Code Lyoko Work
Note-worthy Non-Code Lyoko Work
Cheba Louisa
Manège
Famille d'accueil
La vie érotique de la grenouille
The Tide of Life
Seaside Hotel
Polo
La smala s'en mêle
Plus belle la vie
Clara Sheller
Two of Kind: Spirou & Fantasio
Yakari
Toupou
La vie érotique de la grenouille
My Friend Marsupilami
Agrippine
Fantômette
SOS bout du monde
La Grande Chasse de Nanook
Léo et Popi
Les exploits d'Arsène Lupin
Highlander: The Animated Series
Papa revient demain
Further Reading
Ad blocker interference detected!
Wikia is a free-to-use site that makes money from advertising. We have a modified experience for viewers using ad blockers

Wikia is not accessible if you've made further modifications. Remove the custom ad blocker rule(s) and the page will load as expected.