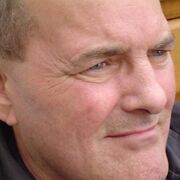 Herman Martin is a composer who worked on the soundtrack for the first 4 seasons of Code Lyoko, the soundtrack for Code Lyoko: Get Ready to Virtualize, and the Subdigitals. He worked with Serge Tavitian. He is capable in both English and French, and actually teaches English. He currently lives in Brussels, Belgium. He is 5 feet, 11 inches; tall. He is bald with blue eyes. He is a tenor. He supports the British Labour party.
Background Information
Herman Martin was originally from Stroud, Gloucestershire, UK; but moved to London, UK. Later, he moved to Brussels, Belgium. He now works on soundtracks, Jazz albums, and Dance.
He can play the piano and keyboard. He now runs a studio named "The Composer's Studio", a studio for private development. He also teaches English.
Code Lyoko Work
Subdigitals Work
Noteworthy Non-Code Lyoko Work
Pretensions of a Stranger In a Strange Land "A Jazz album".
Voice and Synthesizer work in "Blurt", a British music trio.
Composing/ Producing for Mark Gilmore
The soundtrack for Avant de partir (2010)
The soundtrack for The Very Minute, (2010)
The soundtrack for "La Lune"
The soundtrack for Terre terra terrae (2009)
The soundtrack for "The Insane Bucket Posse" (2006)
The soundtrack for Le jardin (2003)
Composing for Claire O'Neil
The soundtrack for "un colonial chez les celtes"
Music and Acting in "Walkman Blues"
An appearance in "Imágenes del Tío Sam"
Contact Information
Work Address:
The Write Stuff
Rue de Haerne 192
B-1040 Brussels
Belgium
Work Phone Number "European #" : +32/2/644 02 30
Work Email: michael@thewritestuff.be
Personal Email: hermanpmartin@netscape.net
Further Reading
Ad blocker interference detected!
Wikia is a free-to-use site that makes money from advertising. We have a modified experience for viewers using ad blockers

Wikia is not accessible if you've made further modifications. Remove the custom ad blocker rule(s) and the page will load as expected.