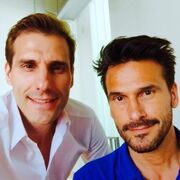 Hervé and Oliver Pérouze
are a French writing duo who have worked on many French shows. Their primary contributions to the
Code Lyoko
franchise were writing "
Guided Missile
" and "
Lost at Sea
".
Code Lyoko Work
Writing
Noteworthy Non-Code Lyoko Work
La Famille médicament
Robin Hood: Mischief in Sherwood
Skyland, "Dawn of a new day"
Flatmania
Malo Korrigan and the Space Tracers
Dragon Hunters
Le petit Nicolas
Malo Korrigan and the Space Tracers
Social Media and References
Ad blocker interference detected!
Wikia is a free-to-use site that makes money from advertising. We have a modified experience for viewers using ad blockers

Wikia is not accessible if you've made further modifications. Remove the custom ad blocker rule(s) and the page will load as expected.