IFSCL (flash Code Lyoko Interface)
Comments

12
482pages on
this wiki
The IFSCL is a project that a person known as Immudelki is constructing, it is based of the four seasons of lyoko
The game is an exact reproduction of the supercomputer controlled by Jeremie, and features a real interactivity.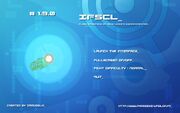 The alpha version has come in April 2010.Warning
It is currently at 2.1.5 stage. (released the' 24 February' of 2013). It is undergoing regular updates and revisions, and development is expected to continue for the next several years.
Disclamer
Edit
_CODE LYOKO and all the names, products, affiliated marks are the propriety of their author and/or rights owners,this program is a product for no commercial usage, it is a fan-creation (the creator is called in this document the'author') for Code Lyoko's fans.
_On a lower level this program is almost a creation of IMMU and any distribution or copies without permission is not approved.
UnInstall
Edit
Launch the installator and look at the options to know if you want to unistall the IFSCL.
AVAILABLE COMMANDS
Edit
(Write into command prompt) When the procedures end, most of them are automatically closed. The usage of the 'stop' command can end the procedure, to do this, write: processname(stop). If it is closed at the wrong momenT IT CANCELS THE PROCESS.
How to Install
Edit