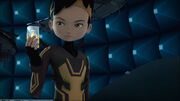 Interface Access Cards are small devices that gives the Lyoko Warriors access to the interface located within the Core of the Cortex. They need to the be inserted into the center of the screen, being absorbed into the interface so Jeremie can access the data.
Gallery
Ad blocker interference detected!
Wikia is a free-to-use site that makes money from advertising. We have a modified experience for viewers using ad blockers

Wikia is not accessible if you've made further modifications. Remove the custom ad blocker rule(s) and the page will load as expected.