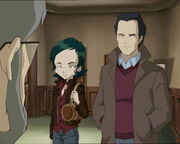 James Dunbar is the father of William Dunbar. He only appeared twice and only in Season 4 during episodes Double Take and Down to Earth.
In his first appearence in Double Take, James had called Principal Delmas out of concern due to not hearing from his son for several days, and not being able to contact William on his cell phone. However, due to the call Jeremie had made earlier in the episode, Delmas thought James was a prank-caller and hung up.
In Down To Earth, James and his wife came to the school to visit William, but due to the William clone's behavior, James and his wife began to believe that he wasn't their son (which was technically true), even going so far as threatening to call the police and running tests to see if he really was their son, however, this was dropped when William returned.
Pictures
Ad blocker interference detected!
Wikia is a free-to-use site that makes money from advertising. We have a modified experience for viewers using ad blockers

Wikia is not accessible if you've made further modifications. Remove the custom ad blocker rule(s) and the page will load as expected.