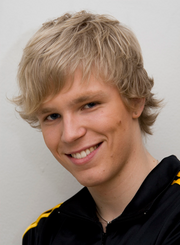 Jon-Jon Sebastian Geitel is a Finnish singer and actor who played the Odd related roles in the Finnish dub of Code Lyoko, and sang the Finnish version of "A World Without Danger", titled "Vaaraton maailma".
Biography
Jon-Jon Geitel was born on 16 january 1990 in Helsinki, Finland. He graduated in 2008 from high school, and started studying acting in 2010 at Taideyliopiston Teatterikorkeakoulu.
In 2010, Jon-Jon Geitel got involved in the music group "Roope Salminen & Koirat", which signed on with Warner Brothers in 2014, and released their debut album in 2016.
Code Lyoko Contributions
| Role | Form | Seasons |
| --- | --- | --- |
| Odd Della Robbia | Finnish Voice | Seasons 1-4 |
| X.A.N.A. Odd | Finnish Voice | Seasons 2-4 |
| Theme Song Singer | Finnish Voice | Seasons 1-4 |
Noteworthy Non-Code Lyoko work
Localizations
High School Musical
Tarzan
Shrek
Alvin & The Chipmunks
Hop
The Smurfs
The Croods
Bratz
Disney's Recess
Bambi
W.I.T.C.H.
Winx Club
Iron Man - Armored Adventures
Robots
Kim Possible
American Dragon Jake Long
Lazy Town
Hannah Montana
The Suite Life of Zack and Cody
Peter Pan 2
Rudolph the Red-Nosed Reindeer "the claymation one with the island of misfit toys"
SING
Soundtracks
SuomiLOVE
Tähdet, tähdet
Pearls and Pigs
Original Production
Further Reading
Ad blocker interference detected!
Wikia is a free-to-use site that makes money from advertising. We have a modified experience for viewers using ad blockers

Wikia is not accessible if you've made further modifications. Remove the custom ad blocker rule(s) and the page will load as expected.