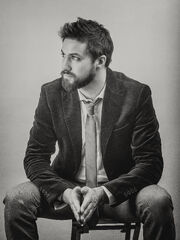 Julien Lamassonne
is a minor french celebrity, whose main contribution to the
Code Lyoko
franchise was creating the first version of the french version of
Un Monde Sans Danger
. He works as a writer, composer, singer, music arranger, actor, writer, and director. Most of his current work is in short films and plays. He lives in Paris, France.
Biography
Code Lyoko Work
Noteworthy Non-Code Lyoko Work
Another World, which was also worked on by Barbara Weber-Scaff.
Live performances on Eurovision and various Paris bars.
Various stage plays
Various short films
Various web films
Further Reading
Ad blocker interference detected!
Wikia is a free-to-use site that makes money from advertising. We have a modified experience for viewers using ad blockers

Wikia is not accessible if you've made further modifications. Remove the custom ad blocker rule(s) and the page will load as expected.