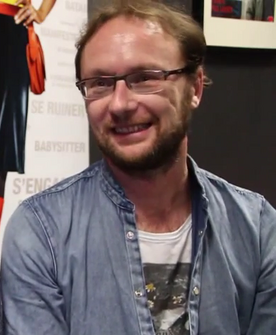 Laurent Turner is a French TV writer who worked on the first 4 seasons of Code Lyoko. Laurent was nominated for a Lumiere Award for "Best Screenplay". He works under Artmedia.
Code Lyoko Work
Writing
Note-worthy Non-Code Lyoko Work
Writer
Anything for Alice
Stai lontana da me
The Mark of the Angels - Miserere
The Prey
La chance de ma vie
Lulu Vroumette
Ultimate Heist
Galactik Football
Dragon Hunters
The Rain Children
Fracasse
Fly Tales
The Magician
Prêt à tout (2012)
La marque des anges - Miserere (2012)
La proie (2010)
La chance de ma vie (2009)
Le premier cercle (2008)
Les enfants de la pluie (2002)
Further Reading
Business Address
Artmedia
20, avenue Rapp
75007 Paris, France
Phone # "France": +33 1.43.17.33.00
Fax # "France": +33 1.44.18.34.60
Ad blocker interference detected!
Wikia is a free-to-use site that makes money from advertising. We have a modified experience for viewers using ad blockers

Wikia is not accessible if you've made further modifications. Remove the custom ad blocker rule(s) and the page will load as expected.