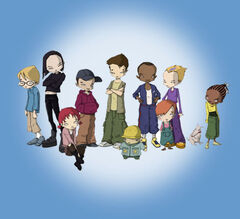 Les enfants (full title Les enfants font leur cinéma, "The Children Make Their Movies") is a 50 second animation made in 2000 for the Annecy film festival. It was made a year before Garage Kids by Antefilms in 2001 when Thomas Romain and Tania Palumbo were students at the school Gobelins.
The animation features a boy running through the streets carrying a movie reel. Police sirens can be heard and a young child looks on as the boy runs by into a tunnel. The boy heads into a room where other children, among which are the pre-Lyoko Warriors (except for Aelita and William) as well as Milly and Tamiya, have been waiting for him. The boy pass the reel to Jeremie who puts the movie into the projector and the kids enjoy the homemade animation of their pirate adventure.
Ad blocker interference detected!
Wikia is a free-to-use site that makes money from advertising. We have a modified experience for viewers using ad blockers

Wikia is not accessible if you've made further modifications. Remove the custom ad blocker rule(s) and the page will load as expected.