Code Lyoko Literature has been frequent to novels, books, and magazines. Most commonly the books are based on episodes of the series while the magazines are individual non-cannon stories.
These are the lists of books and comics that have already published.
For all other Code Lyoko media, see: List of Code Lyoko media.
List of Books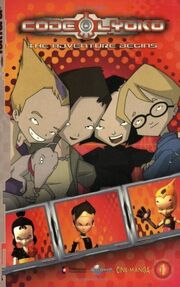 The Books
The Code Lyoko book series is a series of comic books currently being produced by Moonscoop that depict the adventures of the Lyoko Warriors with screenshots of the episodes. The book series misspells the names of the characters often, like saying Jeremie is spelled Jeremy (French version) and Sissi, Sissy. They also misspelled the name of an episode; they said Teddygozilla was spelled "Teddy-godzilla". They are all paperback.
Code Lyoko Chronicles Novels
The novels aren't setted in the places like in the show, but they're still telling about Aelita and X.A.N.A.. In these novels, a new character named Eva Skinner was introduced. The author is unknown, but we can say that Jeremie took part as the narrator in them. They were published by Atlantyca.
List of Comics
Comics based on Code Lyoko have surfaced in France. The comics are the part of the official magazine of Code Lyoko.
The Comics
Code Lyoko Official Magazine #1 (Released July 4th, 2007)

Code Lyoko Official Magazine #2 (Released September 10th, 2007)

Code Lyoko Official Magazine #3 (Released February 1st, 2008)