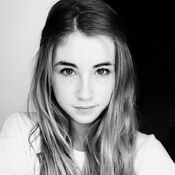 "Go on, go join your buddies… What are you waiting for?" - Louise Vallat
Louise Vallat is an actress who resides in Angoulême, France. She is most famous for providing the live action acting for Samantha Suarez, Odd's main love interest in Code Lyoko Evolution.
Episodes
Louise Vallat has made a appearance in:
Notes
Louise Vallat caused some controversy playing the character, as Samantha Knight was black in the original series. This casting in particular most upsets some old fans. Moonscoop changed her character's last name from Knight to Suarez, but the characters are also separate entities in the series.
External pages
Ad blocker interference detected!
Wikia is a free-to-use site that makes money from advertising. We have a modified experience for viewers using ad blockers

Wikia is not accessible if you've made further modifications. Remove the custom ad blocker rule(s) and the page will load as expected.