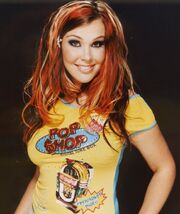 Marianna Alanen
is a Finnish singer and voice actor. Marianna Alanen's stage name is
Kana
and her full name "Marianna Elisabeth Alanen". "Kana" is Finnish for "Chicken". She also used the name "Phat Zik" at the start of her career. She contributed for the
Aelita
-related roles for the Finnish dub of
Code Lyoko
, is a TV host, and is a singer.
She speaks fluent English, Swedish, and Finnish.
Biography
Kana began her music career on the Finnish TV show "Popstars", a contest for new pop musicians. After the show ended, Kana embarked upon a solo career.
Kana had her own radio show "Kanalasta kajahtaa" on YLE YleX channel in 2003. The show featured mainly rap and R&B Music. In the same year, she started hosting children's singing and talent game shows "Skabadabaduu" and "Staraoke" on Finland's MTV3. Staraoke won the first Interactive Emmy Award for a Finnish show in Cannes in 2008.
In 2005, Kana released singles from her second album.
On September 19th, 2012; Kana gave birth to a child, after a previous stillbirth.
In her personal life, Marianna Alanen is involved in animal rescue organizations and has two dogs she adopted from Spain. Marianna Alanenis the chairperson of Dog Force One, a Finnish charity that runs animal shelters, works to improve EU animal welfare legislation, helps find new homes for them, and takes care of abused or injured animals. This is partially financed by Marianna Alanen's line of dog products, such as designer collars and harnesses.
Code Lyoko Roles
Music and Other Work
Shows
"Kanalasta kajahtaa": radio show
"Popstars": Reality TV contestant
"Skabadabaduu": Game Show Host
"Staraoke": Game Show Host
Albums
wRAP (2003)
Tulen aina takaisin (2007)
Singles
Kontti Norjaan (Container to Norway) (2003)
Sanamainari/Sydän ja pää (Wordminer/Heart and Head) feat. Afrodite (2003)
Sähkövirtaa (2005 - gold)
Tulen aina takaisin (promo - 2005)
Saan kaiken muuttumaan (promo - 2006)
See Also
Ad blocker interference detected!
Wikia is a free-to-use site that makes money from advertising. We have a modified experience for viewers using ad blockers

Wikia is not accessible if you've made further modifications. Remove the custom ad blocker rule(s) and the page will load as expected.