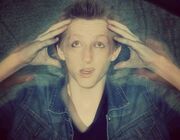 Marin Lafitte is an actor who resides in France. He is most famous for portraying Jeremie Belpois in Code Lyoko Evolution. He was born on June 15th, which was used for the Factory Lift keypad number.
He enjoys surfing, photography, stage magic, and acting.
He has come to hate scenes in the Lab, due to the heat. He apparently got along with most of the cast. He became good friends with Gulliver Bevernaege, though they both auditioned for Odd Della Robbia and Jeremie, both hoping for Odd.
Roles
Other Roles
He also stars in a stage show called "Les enfants de la comédie" "The Children of Acting." He has also had secondary roles in "Fais pas ci, fais pas ça" ("Don't do this, don't do that") season 3 and in E=M6.
Pictures of Roles
Other Pictures
Twitter Feet
Further Reading