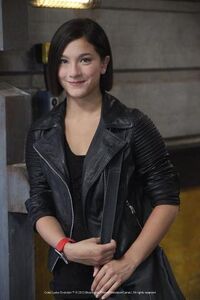 Mélanie Tran, born in May 15, 1992, is a actress who plays Yumi in Code Lyoko Evolution. She is best known for her Code Lyoko Evolution work, and for starring in several other movies, shows, and shorts. Ethnically, she is Vietnamese, but now lives in France. 
She is affiliated with the studio AGITATEUR.
Roles Portrayed
Pictures of Roles
Further reading
Pictures
Melanie Tran's Twitter: Live Feed
Ad blocker interference detected!
Wikia is a free-to-use site that makes money from advertising. We have a modified experience for viewers using ad blockers

Wikia is not accessible if you've made further modifications. Remove the custom ad blocker rule(s) and the page will load as expected.