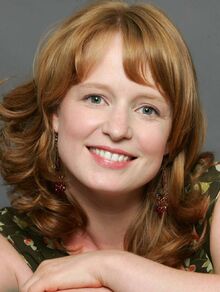 Mirabelle Kirkland
(born in 1971) is an English voice actor who provided several of the English voices for Code Lyoko. She does the voices of many characters. She has also used the name
Idalina Kirkland
.
Note-worthy Non-Code Lyoko Roles
A Monster in Paris, note-worthy because it also had a ton of Code Lyoko actors. Such actors include Jodi Forrest, David Gasman, Matthew Geczy, Mirabelle Kirkland, and Alan Wenger.
Several roles in the Rabbids franchise. Again, because of the absurd number of Code Lyoko actors. Matthew Geczy, Jodi Forrest, David Gasman, Sharon Mann, Alan Wenger, and Mirabelle Kirkland have all had roles in this franchise.
The Rayman franchise has too many of these intersections to find.
Code Lyoko Roles
Pictures of roles:
Further Reading
Ad blocker interference detected!
Wikia is a free-to-use site that makes money from advertising. We have a modified experience for viewers using ad blockers

Wikia is not accessible if you've made further modifications. Remove the custom ad blocker rule(s) and the page will load as expected.