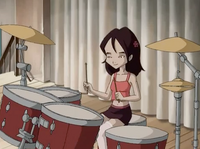 Naomi N'guyen is a character in Code: Lyoko. She is in the eighth grade. She is part of Kadic's music class as can be seen in Ultimatum. Naomi was 12-13 years old and is now 14 years old. She was voiced by Barbara Weber-Scaff.
Appearances
Her first appearance was in Seeing is Believing when she tried out as the drummer for Odd's new band. Despite Odd being attracted to her, she was terrible. When Nicholas got the part, her request to join was denied by Ulrich and Yumi.
Her next appearance was in William Returns.
Other appearances include her reading the Kadic News in Opening Act, and her being worried when Mrs. Hertz fails to wake up in The Lake.
Gallery
Ad blocker interference detected!
Wikia is a free-to-use site that makes money from advertising. We have a modified experience for viewers using ad blockers

Wikia is not accessible if you've made further modifications. Remove the custom ad blocker rule(s) and the page will load as expected.