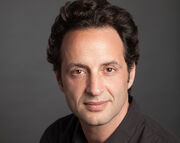 Nicolas Atlan
is a media executive who was a producer on
Code Lyoko
. He is most famous for his work at
Antefilms
and
Moonscoop
, but is now employed at the US arm of Gaumont. He speaks fluent English and French.
Biography
Nicolas Atlan attended École Jeannine Manuel, a prestigious private school in Paris, France; from 1981 to 1989. After that, he went to École Supérieure d'Audiovisuel, a film school in Toulouse, France from 1993 to 1996.
Nicolas Atlan joined Antefilms after graduating, and worked on Funky Cops, a project before Code Lyoko. When Code Lyoko finished, he worked on other Moonscoop projects. Some of these projects were at the Moonscoop USA office, which Nicolas Atlan transferred to. He also oversaw Kabillion. Nicolas Atlan oversaw the regime change at the American branch after Moonscoop France went into administration, and saw it turn into Splash Entertainment. From there, he joined Gaumont Television.
Code Lyoko Work
Noteworthy Non-Code Lyoko Work
Mariah Carey's All I Want for Christmas Is You (Video) (executive producer)
F is for Family: Producer
Chloe's Closet: executive producer
Sabrina: Secrets of a Teenage Witch "Animated Series": executive producer
Care Bears: Welcome to Care-a-Lot (TV Series): executive producer
"Hero: 108": executive producer
Tara Duncan (TV Series): Executive producer
Casper's Scare School: Executive producer
"Fantastic Four: World's Greatest Heroes": Executive producer
Pet Alien: Executive producer
Funky Cops: Executive producer
Further Reading
Ad blocker interference detected!
Wikia is a free-to-use site that makes money from advertising. We have a modified experience for viewers using ad blockers

Wikia is not accessible if you've made further modifications. Remove the custom ad blocker rule(s) and the page will load as expected.