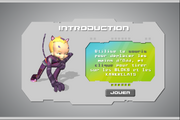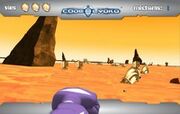 Odd's Battle
is one of the games in the
Code Lyoko
franchise. It was published by
Canal J
and created in
Adobe Flash
.
Gameplay
In the game, the player alternates between the Sectors. In each one, they play as Odd Della Robbia, and fire Laser Arrows to avoid getting hit by approaching Monsters. If the monsters get to Odd 3 times, the game ends. The object of the game is to get as high of a score as possible, in spite of the incrementing difficulty.
Controls
Move the cursor left and right to adjust Odd's aim. Click to fire.
External Link
The game is playable here: http://www.codelyoko.fr/jeuxflash/oddsbattle.cl
Ad blocker interference detected!
Wikia is a free-to-use site that makes money from advertising. We have a modified experience for viewers using ad blockers

Wikia is not accessible if you've made further modifications. Remove the custom ad blocker rule(s) and the page will load as expected.