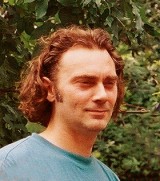 Oliver Poirette is a storyboarder who worked on several Season 2 episodes of Code Lyoko, plus Cousins Once Removed. He previously worked under France Animation, the company that merged with Antefilms to form Moonscoop.
Background Information
Oliver Poirette graduated from École Duperré, and began working in animation in 1986. Since that time, he has worked as a storyboarder, writer, and animator. He joined Code Lyoko in season 2, after working on Oban Star Racers with Thomas Romain. He is affiliated with Agence Kamaji.
Code Lyoko Work
Storyboarding
Noteworthy Non-Code Lyoko Work
The Mysterious Cities of Gold
Xaolin Chronicles
Fantastic 4
Iron Man Armored Adventures "under Luxanimation"
Oban Star Racers
W.I.T.C.H.
GALACTIC FOOTBALL
Further Reading
Ad blocker interference detected!
Wikia is a free-to-use site that makes money from advertising. We have a modified experience for viewers using ad blockers

Wikia is not accessible if you've made further modifications. Remove the custom ad blocker rule(s) and the page will load as expected.