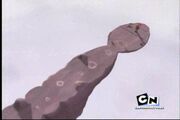 Pulsations are the clear and visible energy pulses emitted towards activated Towers or X.A.N.A.-themed objects, such as simulation bubbles or living things possessed by its power. They mostly signify X.A.N.A.'s presence, and become stronger when it's most active. In Season 1, Aelita uses them to know whether or not X.A.N.A. was attacking. Being connected to Lyoko at the time, she could detect them whenever X.A.N.A. itself was active.
Whenever pulsations run through the landscape of a sector, the ground shakes a little. The pulsations usually are emitted from inactive towers or Lyoko Wires, eventually with the paths converging towards what is usually a tower.
Aelita goes to Lyoko to check for pulsations in Kadic Bombshell via her second sight ability, but cannot feel them. The only time they appear is in Season 1. After that, pulsations were no longer needed because an activated tower can be easily located with Jeremie's superscan.
In Season 5 (titled Code Lyoko: Evolution), pulsations were seen in the sixth episode, when Aelita told Jeremie that she "needed to feel Lyoko" and detected how calm and serene the Desert was; just like her late father.
Appearances
Season One
Season Four
Season Five
Trivia
Gallery
Ad blocker interference detected!
Wikia is a free-to-use site that makes money from advertising. We have a modified experience for viewers using ad blockers

Wikia is not accessible if you've made further modifications. Remove the custom ad blocker rule(s) and the page will load as expected.