The TV News Channel is a news network available in Boulogne-Billancourt. It is often played from the Factory Interface during X.A.N.A. Attacks.
People
Ellen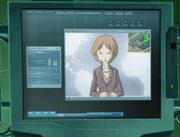 Ellen
is a brunette woman who usually wears a grey pantsuit. She usually sits in front of a map of France or the world in the studio.
John Swamp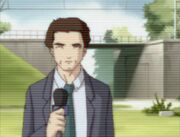 John Swam
is a field reporter. He usually is on-scene in a grey suit reporting on what is often a
X.A.N.A.
Attack.
Thomas Vincent
See full article:
Thomas Vincent
.
Edna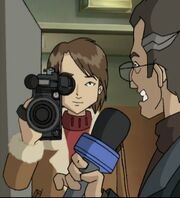 Edna
is Thomas Vincent's camera-person. She wears a brown coat over a red sweater, and jeans. She doesn't talk much, in fear of being fired by Vincent. She does, although, when she filmed the blizzard in Cold War, getting fired by him on the spot. She is still his partner because of the
Time Reversion
and reappears along with him in "Temporary Insanity".
Appearances
Gallery
Ad blocker interference detected!
Wikia is a free-to-use site that makes money from advertising. We have a modified experience for viewers using ad blockers

Wikia is not accessible if you've made further modifications. Remove the custom ad blocker rule(s) and the page will load as expected.