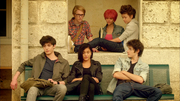 The Lyoko Warriors (also referred to as "Team Lyoko", "the group", or "the gang") is the name given to the group of main characters in Code Lyoko; Ulrich Stern, Yumi Ishiyama, Aelita Schaeffer, Jeremie Belpois, Odd Della Robbia, William Dunbar, and later, Laura Gauthier. The Lyoko Warriors battle the evil, multi-agent computer program named X.A.N.A. so that he does not gain control of Earth and beyond. They also try to gain more knowledge about Aelita, Franz Hopper, and X.A.N.A.. The Lyoko Warriors are constantly at odds with Sissi's group.
Their headquarter is located at the Factory, however Kadic Academy could also be considered as such.
In the first season, the sole purpose of the Lyoko Warriors was to materialize Aelita and shut down the Supercomputer so that X.A.N.A. would not interefere with the outside world. They achieved this Code: Earth, however. X.A.N.A. planted a virus in Aelita which killed her if the Supercomputer were to shut down.
In the second season, following the revelation that Aelita had a virus inside of her, the group continued fighting in search of a "cure" for Aelita. However, with the introduction of Franz Hopper and Sector 5, the group's goals were increased. It was gradually revealed that Hopper was Aelita's father, and that he built Lyoko as a sanctuary for Aelita and him, and X.A.N.A. was originally a program to destroy Project Carthage, a military program that involved his advances in time travel. X.A.N.A. eventually escapes during an attempt to cure Aelita by completely wiping out her memory and thus killing her. Hopper however appears and revives her and restores her memory. X.A.N.A., now free from Lyoko's boundaries, is now located on the web.
The third season features Jeremie trying to figure out how to access Sector 5. X.A.N.A. is still sending attacks, however these attacks are more powerful and strong as he is now in the web. Throughout the season, X.A.N.A. attempts to wipe out the four sectors to prevent the team from accessing Sector 5. He eventually does through a possesed Aelita, by wiping out the sectors one-by-one. William joins the team so team has better changes to fight X.A.N.A. He however gets captured and possessed.
In the fourth season, the group has a whole lot on their list: rebuilding Lyoko, recovering William, traveling the web in search for X.A.N.A., trying to cover up William's disappearence, finding Franz Hopper, along with the everyday issues of school and life. Through the course of the season, these goals are fulfilled however with the cost of Franz Hopper's life and a handful of questions left unanswered.
In the fifth season, they're trying to piece together X.A.N.A.'s return, and how Franz Hopper is connected to it. They discover a replica called the Cortex which contains valuable information. Odd, Ulrich and Yumi have ability to use the towers same way as Aelita, but all four of them are targeted by X.A.N.A. who needs their source codes, which he can only steal through spectres in the real world. William proves himself to the team and is accepted back. Also Laura joins the team as an aid for Jeremy at the lab. With William and Laura into the group, the team will try to investigate who revived X.A.N.A. and why. Unfortunately, they encounter new enemies called "The Ninjas".
Current members
Edit
The current members consists of seven junior High School children.
Temporary members and aides
Edit
Jeremie, Laura, and Aelita are the smartest ones in the team. Yumi and William are also a bit smarter, while Ulrich isn't very good at it. Odd usually doesn't bother to try (such as in Final Mix where he made a paper crane instead of finishing his test).
Laura is the only Lyoko Warrior who has not been virtualized. However, In the episode Friday the 13th, she almost went to Lyoko to assist Odd, but was stopped by Aelita.
Ulrich, Yumi and Laura are only ones who haven't been possessed (or in Odds case zombified) by X.A.N.A.. Not counting X.A.N.A. taking control over Ulrichs body once.
All of the Warriors have used "Lyoko Warriors" as the team name at one point or another. It is mostly used as the team name in Evolution. It can be assumed that Odd came up with the name.
At some point, every Lyoko Warrior apart from Aelita and Jeremy have been kicked out of the group.
Laura is only member whos not been target of X.A.N.A attacks.
Non-footage artwork
Edit
Seasons 1-4
Edit