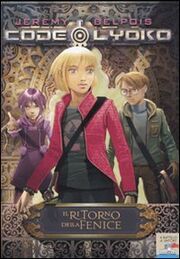 The Return of the Phoenix is the fifth novel of Code Lyoko published by Atlantyca. It is set after Season 4 and before Evolution.
Synopsis
Jeremy, Aelita, Ulrich, Yumi and Odd do not know that bringing Eva Skinner to the factory, has revealed their worst enemy where they can freely access the virtual world of Lyoko. And not only the malevolent artificial intelligence, for also spying on them was Gregory Nictapolus; a ruthless agent of the Green Phoenix.
So when Jeremy brings together the worlds of Lyoko and the First City, X.A.N.A. regains its former power and decides to team up with Green Phoenix, a dangerous terrorist group, resulting in a terrible army of robots that begin to invade the City of Tower Iron.
Story
Chapters
Prologue:
Chapter 1:
Chapter 2:
Chapter 3:
Chapter 4:
Chapter 5:
Chapter 6:
Chapter 7:
Chapter 8:
Chapter 9:
Chapter 10:
Chapter 11:
Chapter 12:
Chapter 13:
Chapter 14:
Chapter 15:
Chapter 16:
Chapter 17:
Chapter 18:
Chapter 19:
Chapter 20:
Chapter 21:
Epilogue:
Retitlings
This book was never published in English. The Title used here is a translation. These are the native titles:
Itatian: Il ritorno della fenice
Spanish: El regreso del Fénix
Catalan: El retorn del Fènix
Galician: O regreso do Fénix
Basque: Fenixaren Itzulera
Portuguese: O regresso da Fénix
Dutch: De Terugkeer Van De Feniks
Availability
Book
Ad blocker interference detected!
Wikia is a free-to-use site that makes money from advertising. We have a modified experience for viewers using ad blockers

Wikia is not accessible if you've made further modifications. Remove the custom ad blocker rule(s) and the page will load as expected.