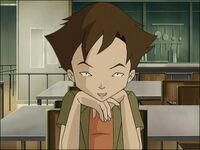 Theo Gauthier is a student at Kadic. He was played by David Gasman in English.
He appeared in the episode Claustrophobia. He showed to having an interest in Sissi in this episode, resulting in jealousy from Herb Pichon. Although in a Time Reversion, Odd instead sparks an interest in him towards Yumi in order to prevent rivalry between Theo and Herb. However, this also is shown to have made Ulrich jealous when Theo offers to walk Yumi home from a soccer game with his arm around her.
Theo has made non-speaking appearances in other episodes. He was a "background character" for those episodes. Theo has made these "appearances" in at least 1 episode in Season 2, Season 3 and Season 4.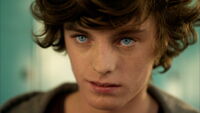 In
Code Lyoko Evolution
,
X.A.N.A.
created a
spectre
of a boy with a very similar appearance with Theo in the episode
How to Fool X.A.N.A.
to hypnotize Yumi into giving him her
codes
. However, it is very unlikely if the spectre was really Theo, despite their similarity.
Gallery
Ad blocker interference detected!
Wikia is a free-to-use site that makes money from advertising. We have a modified experience for viewers using ad blockers

Wikia is not accessible if you've made further modifications. Remove the custom ad blocker rule(s) and the page will load as expected.