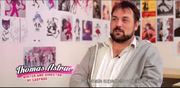 Thomas Astruc is a storyboarder who worked on Code Lyoko. Within Code Lyoko, he only worked on Season 1. He is more famous for working on Miraculous Ladybug and Totally Spies. He speaks French, English, and Japanese.
Early Life
Thomas Astruc was born on January 18, 1975 in Paris, France. He graduated from Gobelins in 1995. His first project was working on "Blake and Mortimer" for Studio Eclipse.
Code Lyoko Work
Storyboarding
Noteworthy Non-Code Lyoko Work
Asterix
A.T.O.M.
becassine & le tresor viking
Bob Morane
Diabolik
Flapacha
Lolirock
Marsupilami
Mikido
Miraculous Ladybug, producer and head writer. He works alongside Matthew Geczy.
Totally Spies
Wakfu
Wasabi
W.I.T.C.H.
Further Reading
Ad blocker interference detected!
Wikia is a free-to-use site that makes money from advertising. We have a modified experience for viewers using ad blockers

Wikia is not accessible if you've made further modifications. Remove the custom ad blocker rule(s) and the page will load as expected.