Don't give up with that girl, Odd. Just look at me, I never lost hope with Yumi!
–William in How to Fool X.A.N.A.
William Dunbar joined Code Lyoko in the second season as one of Yumi's classmates. In Final Round, he became the sixth member of Team Lyoko, until his first trip into Lyoko, when X.A.N.A. possessed him and used him as his general until episode Down to Earth where he was freed and returned as an ally. He returns in Code Lyoko Evolution, and permanently joins the team at the end of the episode Rivalry.
At Kadic
William was kind of a loner at first, having been kicked out of his previous school for posting love letters everywhere, but Yumi soon takes to him as a friend. To nobody's surprise, William wants to be more than just friends, causing conflict between him and Ulrich when both of them vie for Yumi's affections. His appearances in the show become more frequent during the third season, when Jeremie suggests to the team that William join their group, much to the disagreement of the rest of the warriors. As fighting on Lyoko becomes harder and harder and X.A.N.A. starts to force Aelita to delete several of Lyoko's sectors, the group decides to let William join.
However, X.A.N.A. takes advantage of William's ineptitude and uses the Scyphozoa to take control of his mind and body, effectively trapping him in Lyoko. Jeremie creates a stable polymorphic specter with William's basic memories, and a basic personality in order to prevent suspicion amongst the school. Over time, this "clone" becomes much more popular than William was, but due to his 'dumb' personality, he unknowingly causes trouble for our warriors. His personality also became a bit of a gag in the show, best seen in the episode Wreck Room. In episode Down to Earth, William is finally freed from X.A.N.A.'s control, and returns to Earth. However, his behavior pre-X.A.N.A. causes tension between him and the rest of the warriors, who are reluctant to associate with him further, as seen in Fight to the Finish.
In tandem with this, in Code Lyoko: Quest for Infinity, he was a secondary antagonist. However, he was still rescued from X.A.N.A., complete with recycled footage from "Down to Earth."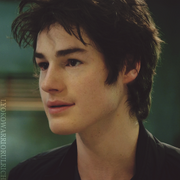 William's role in the new series,
Code Lyoko Evolution
, is to seek redemption, which he later succeeds. In
Cortex
, after Odd got himself locked up in utility room, William, instead of helping him out, went to Lyoko and takes Odd's place. For this, Odd was really mad at him, even having a thought of
devirtualizing
him. After rejoining the team, they stop fighting and became friendly to each other. In
Rivalry
, William and Ulrich puts down their disagreements after William saves Ulrich from falling into
Digital Sea
. William becomes more serious about the missions in order to be worthy for the others to trust.
On Lyoko
William wields a big sword called Zweihander. Its name literally means "Two-Hander" in German. Traditionally, Zweihanders are wielded with two hands due to their great weight. Evidence of the sword's weight can be found in the episode Final Round, when William attempted to hold it with one hand, and then dropped it. His sword also fires energy blasts when he swings it.
Lyoko Powers
Vehicle
Black Manta - A unique Manta for William to ride on as a vehicle.
Rorkal - A virtual ship like a Nav Skid created for William, but he was given a black, independent one by X.A.N.A, who made it by using the data he has stolen from the Skidbladnir through the Scyphozoa in The Lake.
Nav Skid - One of Skidbladnir's minimum-sized fighting ships. In original Skid, there was one more which was probably meant for William. After he rejoined the team, he got one for himself in the new Skid.
Trivia
In the French version of Code Lyoko, he is played by Mathieu Moreau.
While possessed by X.A.N.A. in Lyoko, his sword's look changes, similar to the black and white parts of a tower in Lyoko.
William's sword is a specific type of Zweihander called "schweren Schlag" (literally "heavy blow" in German). It is a type of Zweihand that has a heavier bass blade, spanning the entire hilt. Normal Zweihanders weight around 15 kg, while the schweren Schlag is between 30 kg and 45 kg. This may be why William cannot wield his sword in one hand, as most fighting styles can utilize this.
On Lyoko, William's form is a Doppelsöldner. Doppelsöldners were specific types of mercenaries who volunteer to fight which means to take on extra risks. In exchange, they earned double payment. Interestingly, they also used the Zweihänders.
He was the first character to receive a new, more modern/futuristic outfit in Jeremie's upgrade, although William's was given to him by X.A.N.A.
He was the only character to obtain a X.A.N.A. suit (unless one counts the polymorphic clone from Revelation who shape shifted into an evil Ulrich).
X.A.N.A. likely chose to possess William because it saw the most potential in him as a weapon out of all the other Lyoko Warriors due to his recklessness.
In the episode Vertigo, it is revealed that William is afraid of spiders. Ironically, he rides on Tarantulas that resemble spiders.
There was an unused Nav Skid on the Skidbladnir when it was created. It was, most likely, intended to be used by William in case he was freed from X.A.N.A.'s control. Once freed, he is seen in his own Nav Skid in The Warrior Awakens.
He was the last person in the real world to be possessed by X.A.N.A., before Code Lyoko Evolution, though he still remains the last one as there haven't been any new human-possessions yet.
Oddly, in a A Lack of Goodwill, he wore the new clothes his clone had. But when in Down to Earth, when he is freed from X.A.N.A, he was wearing his old clothes.
In the Final Round, he began to glow purple under X.A.N.A's control when he ran extremely fast or levitated. Later in the series, he just uses his Supersmoke ability to accelerate.
Odd's arrows cannot hurt William while he using Supersmoke, as seen in Bragging Rights.
In Double Trouble, William recalls the events from The Secret in a dream - despite those events never happening due to a return to the past. The reason for this has not yet been explored in the series.

A logical reason could be that the Return to the Past can cause Déjà vu to those who haven't been scanned by the Supercomputer.

In A Bad Turn, he reveals that he participates in the micro-kart club, and extends an invitation to Ulrich to join, which he accepts.
It is possible that William dislikes chemistry class. This is said in Ultimatum as he tells Odd, "Lucky you, we got chemistry".
In season 3, it was strongly indicated that William constantly pulls pranks on Jim.
So far, he is the only Lyoko Warrior with 2 battle themes.
When William was repossessed by X.A.N.A in Fight to the Finish, it shows that he didn't have resistance to X.A.N.A like others did when X.A.N.A tried to possess them in A Great Day.

X.A.N.A. easily repossessing him would make sense considering how he only went to Lyoko once and was possessed for the entire 4th Season.

William was the only Lyoko Warrior in Code Lyoko Evolution who didn't have X.A.N.A.'s Source Codes, until one of the others had all of their codes stolen.
Other than Aelita shown landing on her feet when being virtualized in a flashback in Aelita, William was the only Lyoko Warrior to land on his feet when first being virtualized.
In Evolution, William no longer yells out SuperSmoke when he uses it.
He is the only one to have immediately devirtualized the real Ulrich when he used Triplicate.
He and Laura are the only Lyoko Warriors that didn't make a appearance in Season 1.
Gallery
Expand/Collapse Gallery
Earth: Season 2
Earth Seasons 2-3: Unknown
Earth: Season 3
Earth: Season 4
Earth: Evolution
Virtual (Season 4)
Virtual (Evolution)
Facebook Game
Others